The importance of sustainability events
In the current context, sustainability plays a fundamental role in the development of any business activity. In the events sector, work is already underway to make events more committed to sustainability at all levels. There are three levels of sustainability: economic, social and environmental. In addition, technology provides us with solutions that help to reduce the negative impact that events can cause. In this article, we explain how the use of Meetmaps software contributes to organising more sustainable and socially responsible events.
Meetmaps technology: a complete solution for events
Meetmaps is a comprehensive platform designed to facilitate the efficient and sustainable organisation of events. The platform offers a wide range of tools and features that enable organisers to optimise all aspects of their events. These aspects range from planning and guest management to measuring environmental impact. Let's see how Meetmaps can help you achieve your sustainability goals.
Efficient event planning and management
A key benefit of using Meetmaps technology is its ability to simplify and streamline the event planning and management process. The platform offers an intuitive and easy-to-use interface that allows you to organise all the details of your event in one place.
You can create a detailed schedule, assign tasks to your team members and receive real-time updates on the progress of each activity. This not only saves time, but also reduces the use of paper and other material resources associated with traditional event planning.
Effective communication and waste reduction
Effective communication is fundamental to the success of any event and Meetmaps offers powerful tools to facilitate this. The platform allows for automated invitations and reminders to be sent to participants, reducing the need for printed invitations to be mailed out.
In addition, participants can access all relevant event information, such as schedules, location and materials, through the Meetmaps mobile app. This eliminates the need to print large quantities of flyers and programmes, saving resources and reducing waste generated during the event.
Improving the participant experience
The attendee experience is one of the most important aspects to consider when organising an event. With Meetmaps technology you can provide your attendees with an immersive and personalised experience.
The platform allows the creation of individual profiles for each participant. Through their profile they can access personalised information about sessions, speakers and event activities. In addition, Meetmaps offers interactive features such as real-time polls and virtual networking spaces. These features encourage active participation and the exchange of ideas among participants.
This not only enhances the attendee experience, but also reduces the use of printed materials and promotes more sustainable events.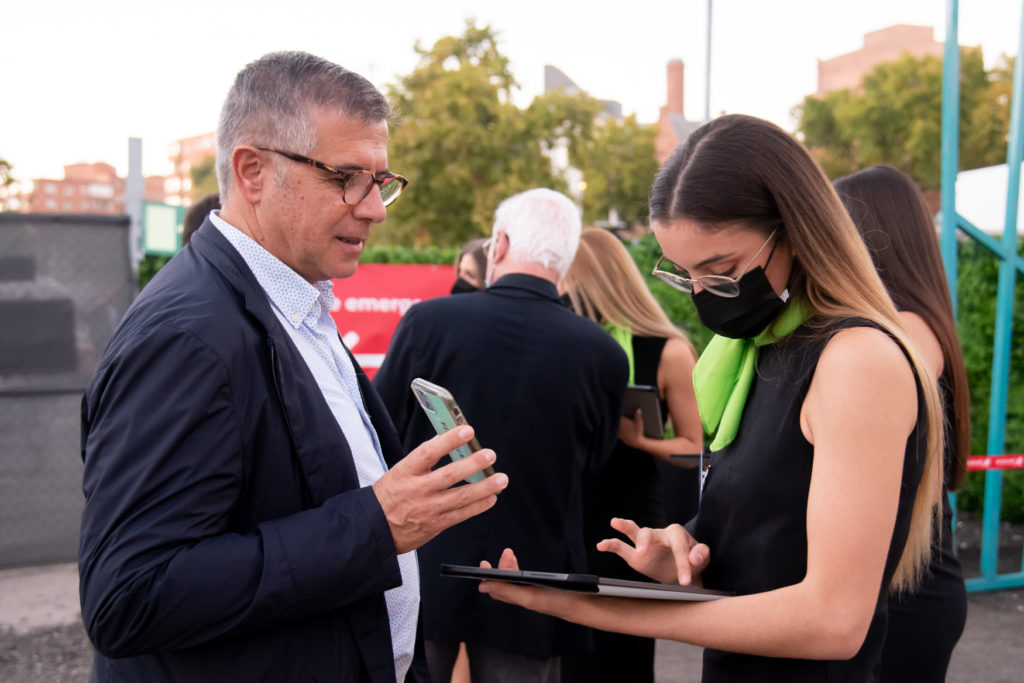 Measuring environmental impact and continuous improvement
Meetmaps Event Management Software goes beyond event planning and management by offering tools to measure and evaluate the environmental impact of your activities. The platform allows you to collect data on users in person, remote users and even crowd control at venue access.
This data provides you with information on the social and environmental impact of your actions and helps you to identify areas for improvement in the organisation of future events, such as: incorporating recycling practices, choosing more sustainable suppliers and promoting the use of public transport.
Meetmaps EMS Sustainable Solutions 
Meetmaps professionals have compiled the aspects in which our Event Management Software contributes to the organisation of more committed events. These include the following:
Reducing paper waste and using recycled materials

.
With Meetmaps, give access to your events via online badges in the form of a QR code without the need for paper printouts. If printed badges are a necessity for your event, Meetmaps creates more sustainable badges by avoiding plastic and using materials such as cardboard and eco-friendly paper.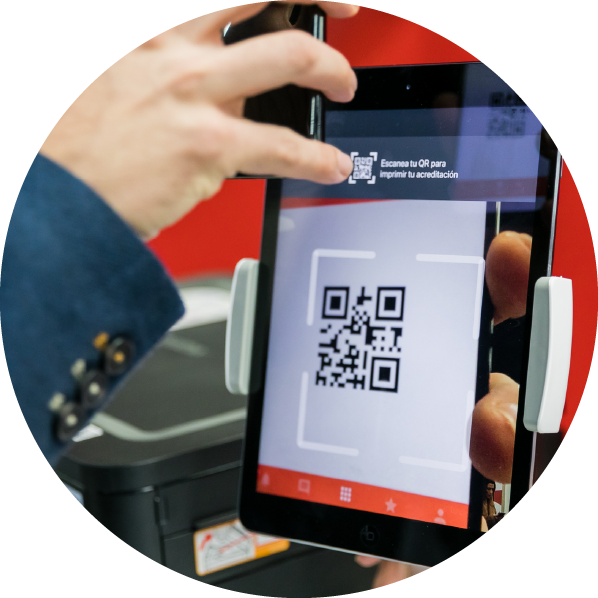 Saving natural resources

.
Meetmaps Event App allows you to save the agenda of attendees, as well as various documents, both your own and those of the participants, online thanks to different modules within the app. This avoids the need for hand-written agendas or the need for attendees to print out documents related to the event. 
Less air pollution and accessibility for all.
Meetmaps' ability to run different event formats contributes to both social and environmental sustainability. Hybrid and virtual events allow anyone to attend the event regardless of circumstances such as distance, lack of resources or other inconveniences, as well as helping to minimise travel and thus pollution. 
Reduction of negative environmental impact.
 Throughout the development of event activity, many high cost and negative environmental impact infrastructures have been built and are of no value after the event. With Meetmaps, companies wishing to have a presence at an event to give visibility to their business can set up their own virtual stands with all the corporate information, products and multimedia content.
This avoids the need to build physical stands that involve the misuse of materials and resources such as paper brochures that, after the event, will become waste.
Meetmaps software is an all-in-one platform that integrates all event management solutions on a single platform.  Servers worldwide require as much energy to operate as thirty nuclear power plants, so using a single server reduces pollution and contributes to sustainability.
In this section of the article, we have compiled success stories from the organisation of events where Meetmaps technology has been used for sustainable purposes.
In the case of the latest editions of GMF, the use of the Meetmaps event app has been promoted in order to reduce the printing of documentation at the event, such as the meeting agenda, as well as specifications on the logistics of the different events.
The organisation of the Poctefa event by the Vitoria-Gasteiz City Council was carried out with the help of Meetmaps technology. Subsequently, a simplified environmental declaration of the event was elaborated. Meetmaps streaming helped 600 people to leave no carbon footprint.
"At Ship2b, we wanted to make the event as sustainable as possible and considered it important to minimise the use of paper. Therefore, we did not hesitate to have an app that would help us provide the necessary information to all attendees as well as allow them to connect with each other and exchange knowledge, and the Meetmaps app has fulfilled all these requirements," says Beatriz Ibañez, director of the S2B Impact Forum.
The benefits of using Meetmaps for sustainable events 
In conclusion, the Meetmaps software offers an efficient all-in-one platform for the organisation of sustainable events. Its focus on optimising planning and execution, effective communication, enhancing the participant experience and measuring impact makes Meetmaps an essential tool for organisers wishing to reduce their environmental footprint and streamline processes at their events.
With Meetmaps solutions, event organisers will be able to save time by simplifying and streamlining planning and management processes. This will improve organisational social sustainability. For improved environmental sustainability, by using tools such as the Meetmaps app and website, you will be able to reduce the use of paper and other materials.
In a world increasingly aware of the importance of sustainability, it is essential to adopt technologies like Meetmaps to organise events in a more responsible and efficient way.
Not only will you be doing your part to help the environment, but you'll also be improving the experience for your participants and optimising your resources. So don't hesitate to take advantage of the benefits Meetmaps technology has to offer and join the movement towards more sustainable and time-conscious events.
Blogs related: