Given the current times in the face of the Coronavirus crisis situation, it can be difficult to know when is the best time to change your event planning strategy. Some event experts share the idea of starting to make some changes in the planning and format to find the balance between the changing environment and that the essence of the events does not disappear.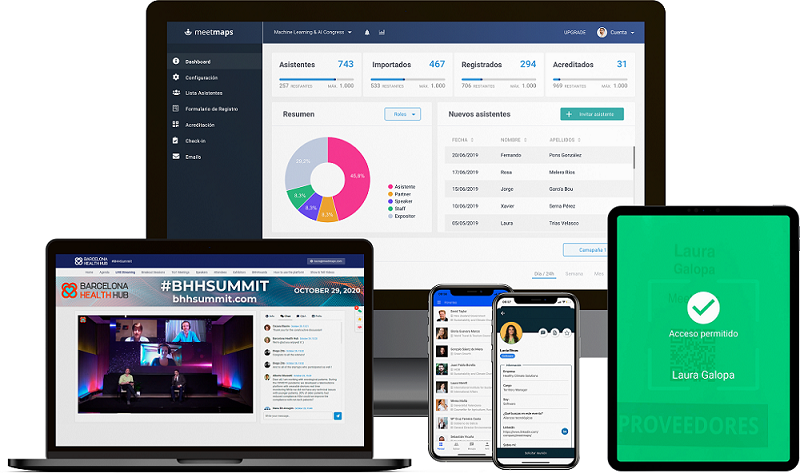 That is to say, to start transforming physical events into virtual or hybrid events, since from now on this will be the format adopted by most companies in the sector so that the concepts of experience and technology can be perfectly combined.
This type of event is here to stay and we are seeing signs that this format will become common and complementary to physical events in the future.
We want to explain the difference between webinars and virtual events, two concepts that are often confused, but before that, we are going to present you 3 important points to consider before making the decision to organize a virtual event.
What to consider before transforming your event
.
Prioritize the security of your team and your event users.
In the end, the most important thing to consider is the health and safety of your team, attendees, sponsors and presenters. If there is reason to believe that your physical event may be affected by the current health crisis, consider solutions to move your event to a virtual venue.
.
Keep your planned objectives in mind
As you make decisions about the list of upcoming events, take a step back to evaluate the main objectives planned from the start. For example, some questions to ask yourself before organizing an event are: Why are you planning to organize this event? What are your objectives?
Use these answers to determine if your event strategy aligns with the current situation and if you can organize your event as you had planned with specific tools.
.
Look at this crisis as an opportunity for growth
The positive side of crises and the obstacles you encounter in them are the solutions we find, which also help us to improve. We know that physical events are on the back burner for the moment because they will not be held for some time, so we are going to look for solutions and readjust the planned strategies so that our attendees have a positive and enriching experience with our solution.
.
What is the difference between a webinar and a virtual event?
.
Webinars or also called webinars are a valuable channel for connecting with an audience. They can be viewed as a type of virtual event, but differ from other virtual events in a few key ways.
.
Webinars provide attendees with a single session to attend, while virtual events offer flexibility in single or multi-session agendas that take place at different times or days.
Because of this, attendees have the opportunity to select their own experience and determine which sessions they would like to attend in a virtual event.
The Meetmaps platform offers a complete agenda, with all sessions organized by days, times and rooms, so that the user has all the information about the session before deciding whether or not to attend, with the option to save it as a favorite and receive a notification before it starts.
.
Webinars may include, Q&A, or instant reactions with icons, but most webinar interaction is limited to these points.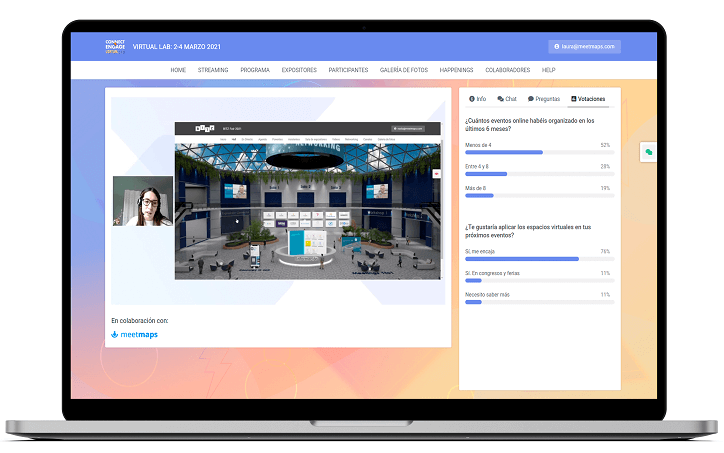 Virtual events feature communities where attendees can connect with each other during breakout sessions, as well as conduct live voting, create group or one-on-one chats, and more.
These features allow attendees to communicate with event speakers, exhibitors and sponsors as part of the larger event experience. Unlike webinars, virtual events also feature satisfaction surveys and metrics.
.
Similar vs. unique experience:
Because a virtual attendee has the opportunity to select their own experience and interact beyond a single session, they can create a unique event experience. With this same currency, event organizers can gain insight into their attendees' preferences by analyzing their journey through a virtual event.
The resulting insights can help organizers send more nuanced follow-up messages to attendees, better tailor virtual and in-person experiences, and generate more personalized touch points.
.
Group meetings vs. one-on-one meetings: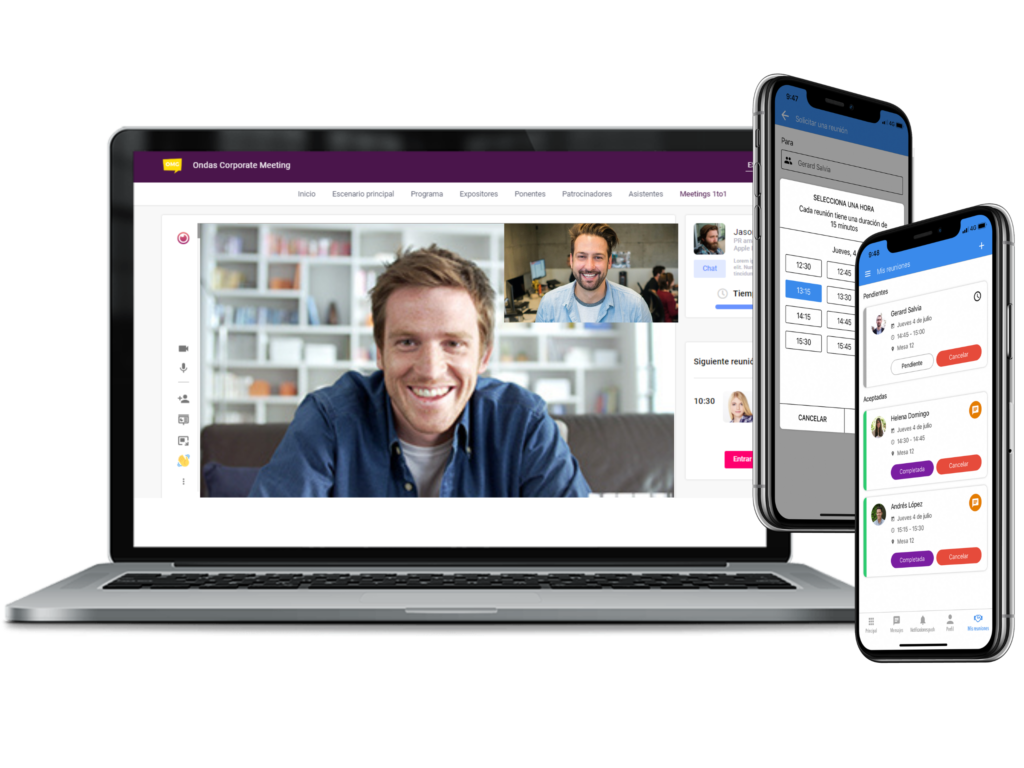 While the webinar is a session more focused on imparting a subject matter, the virtual event allows you to have in addition to the streaming sessions on the agenda, 1to1 meetings.
These individual appointments between attendees have a specific time, have been previously scheduled and are conducted through a private video call.
This option greatly enhances networking among attendees, thus creating connections between them for future business.
.
Key conclusions for your virtual event
.
Organizing a virtual event can be a great opportunity, so here are some key takeaways to make your event stand out from the rest and be a success:
Differentiate your virtual experience from a webinar by creating an active experience for attendees that allows them to participate in a variety of ways.
Once you have assessed the environment related to important areas such as the health and safety of your customers, transform your environment into a virtual one to provide opportunities and new strategies.
Start a successful virtual conference by identifying your audience and designing attendee-centric experiences.
Collaborate with your sponsors to maximize your partnership.
Define your key metrics for virtual success.
Evaluate the right tools for your event.
Focus on an end-to-end virtual solution with the right tool.
Looking for more ways to realize your next virtual experience?
Ask us for a demo to get a detailed view of how to bring your virtual experiences to life.
.
Articles you may be interested in:
Here are some tips and ideas to help you organize your virtual event safely and with the highest quality here.