Virtual events are meetings that are held digitally and involve a group of people on a website instead of meeting at a physical location.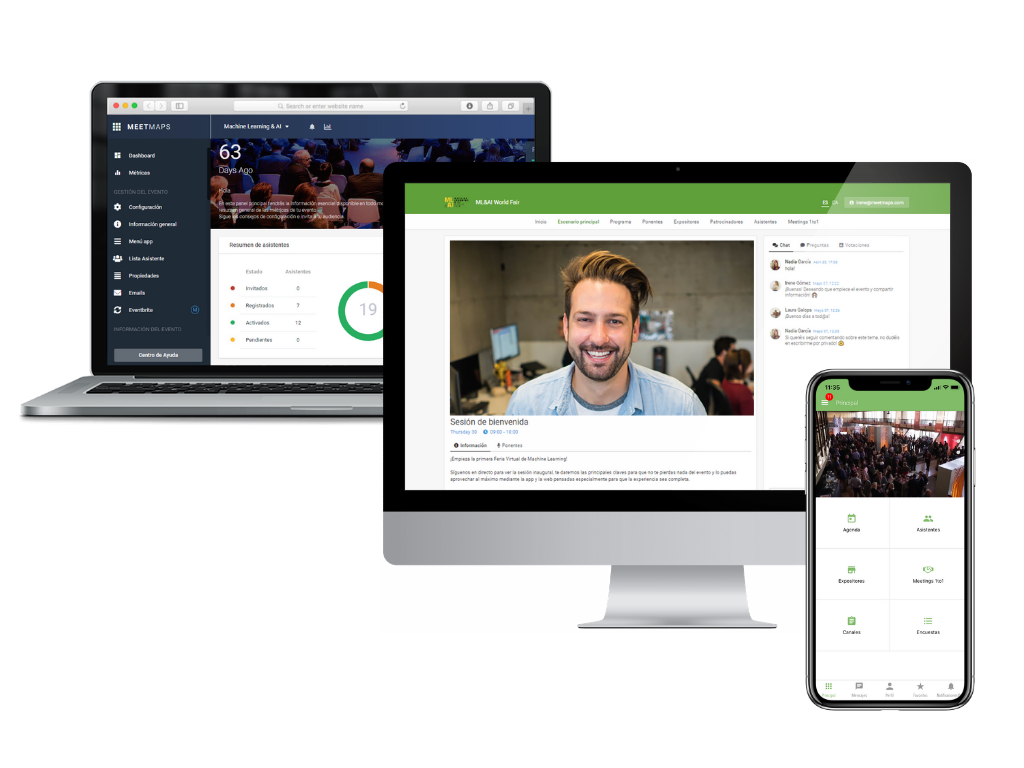 Virtual events typically have several sessions that include streaming content. They are highly interactive and are very similar to physical events, with a few exceptions.
Popular uses of virtual events include internal conventions, conferences, virtual trade shows, webinars, among others, and are usually led by company executives, marketing managers, human resources, industry experts, and more.
Most virtual events use streaming software or webinar tools depending on the type of meeting being held.
What types of virtual events are there?
.
Like in-person conferences, virtual conferences are built around an agenda of content related to a specific topic that is spread over several sessions delivered by experts and usually incorporates participatory tools, such as speaker questions or live voting. 
Virtual conferences allow attendees to view presentations in real-time, create their own agenda from relevant content presented, and interact with other attendees.
.
Virtual trade shows are very similar to traditional trade shows, the only difference being the physical space. As with traditional trade shows, attendees interact with exhibitors and sponsors, getting live demonstrations of the products or services they offer. In virtual fairs, visitors need to access the fair through a computer or mobile device with a good Internet connection. It also usually includes networking of some kind and presentations by exhibitors.
.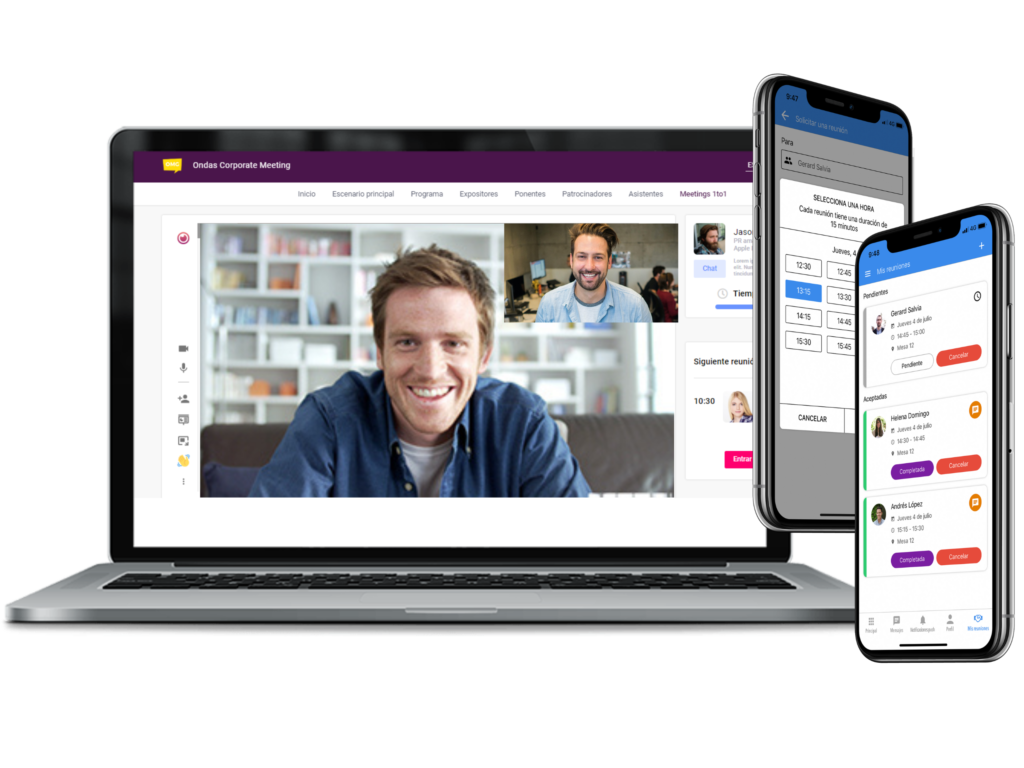 Virtual meetings use advanced technology to bring people together in various locations to conduct business. Such meetings allow the exchange of information in many different formats and encourage input from a variety of sources.
The many advantages offered by videoconferencing have for years attracted the attention of many companies, which rely on this medium to communicate with customers and other professionals without leaving the office.
.
A webinar is a videoconference that allows online training content to be communicated in video format. It is a tool from which a lecturer or professional gives a course, talk or seminar, which is followed by live users who can communicate with him. A webinar has several purposes: informative, educational, or commercial.
.
Another type of virtual event is a press conference. Just as these types of informative events are done in person, they can also be done remotely. The media can ask questions to the person, entity, or organization that will be willing to answer live, through the functionalities of "live questions" through platforms for virtual events or mobile apps.
.
Why organize a virtual event?
.
Virtual events are held for the same reasons as in-person events: to communicate the company's message and generate revenue and potential leads, and drive adoption. 
There are many important benefits to hosting some type of virtual event.
For one, it can mean lower costs for the organizing company in terms of transportation, space, catering, security, and more.
In addition, it allows people from all over the world to interact with each other without having to spend on flights and hotels. It makes it easy and inexpensive to collaborate virtually from anywhere in the world and conduct meetings and business.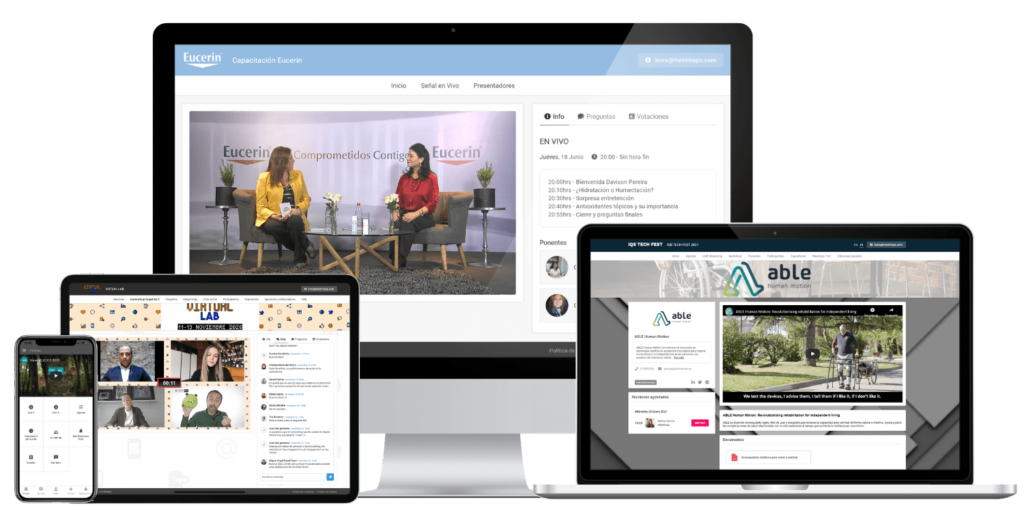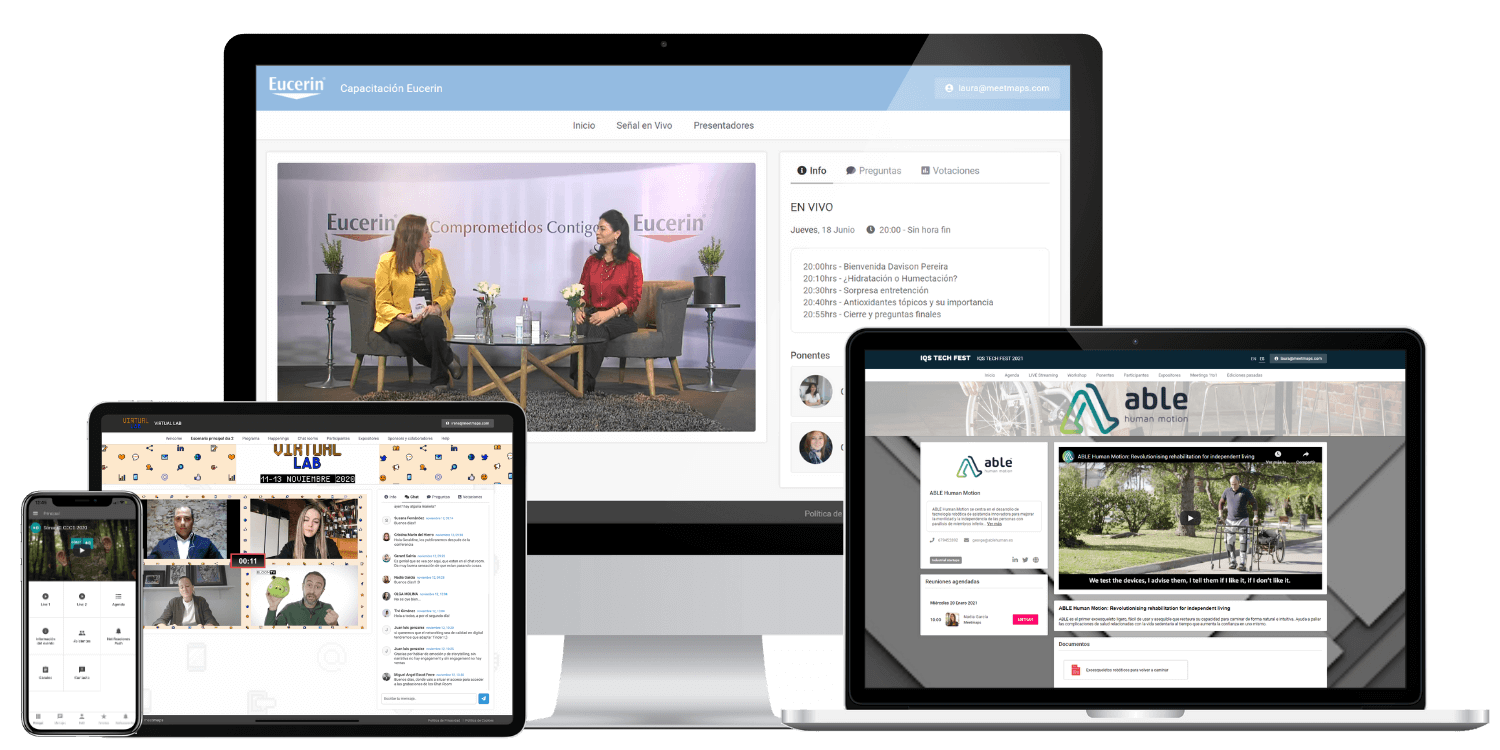 It can also help attract in-demand speakers who do not have the time to commit to an in-person conference but are available to deliver a presentation via a quick video call or pre-recorded conference.
In addition, a virtual conference also allows you to create a product, a recording of a conference, that can continue to be shared and used as a lead generation tool for months and years after the initial live launch.
.
"If you're switching from a live event, try to add extra value to viewers who are now tuning in online. Do an additional session. Offer more Q&A time. Offer an additional special offer. Find creative ways to add additional moments of delight" – Emily Raleigh, HubSpot Strategic Alliances and Brand Marketing Manager.
.
Advantages of the virtual event
.
No more logistical hassles
No more printing and mailing invitations, selling physical tickets or wasting time looking for the perfect venue. Plus, your attendees will appreciate arriving on time without having to cross half the city. They won't even have to go outside. And if that's not enough, you can send the recorded event to everyone who has signed up so they won't miss a thing if they can't attend live.
.
Another advantage of holding a virtual event is the wide and varied opportunities to interact with your attendees. You have their full attention, so you can ask them questions and give them the opportunity to ask questions. Many people get nervous at in-person events and prefer online sessions to raise certain questions from the comfort of their own space.
With some event tools like Meetmaps, you can conduct polls or ask people to use a chat window to type in their responses.
All the information you gather from your attendees is extremely valuable and will help you prepare or refine your business strategy for the future.
.
Physical events tend to involve a lot more expenses than virtual events. Providing food and beverages for 100 people, printing promotional materials, or hiring people can be expensive. Online events, on the other hand, require very little staff and can be promoted online through email marketing. Plus, attendees can eat at their leisure from home or the office without costing you anything.
.
All event attendees can access all the options to experience a completely virtual event with all the advantages, as if it were a physical event, thanks to mobile devices and computers. Events can be launched worldwide and reach an international audience thanks to their low cost.
.
Accurate audience analysis
Once an online event is over, data can be analyzed to better reach your audience. Thanks to technology, metrics are clearer and it is possible to have more controlled participation data. If you are an organizer or your company wants to be part of an online event, using this technology can give you a great competitive advantage.
.
Technology required for a virtual event
.
Virtual events depend on technology. Attendance would not be possible without the use of computers and mobile devices. But virtual event technology has more than just video conferencing tools.
Just like an in-person event, virtual events benefit from the use of an event technology platform like Meetmaps, which helps promote, execute and manage the event. Here are the most important event technology features to use when running your virtual event.
.
The event website is used for event promotion. It serves the same purpose whether the event is virtual or physical. Your event website is a key promotional tool to interest potential attendees and entice them to register for the event. The event website should communicate the value of the event, have the event agenda, showcase speakers, and point to the option to register for the event.
.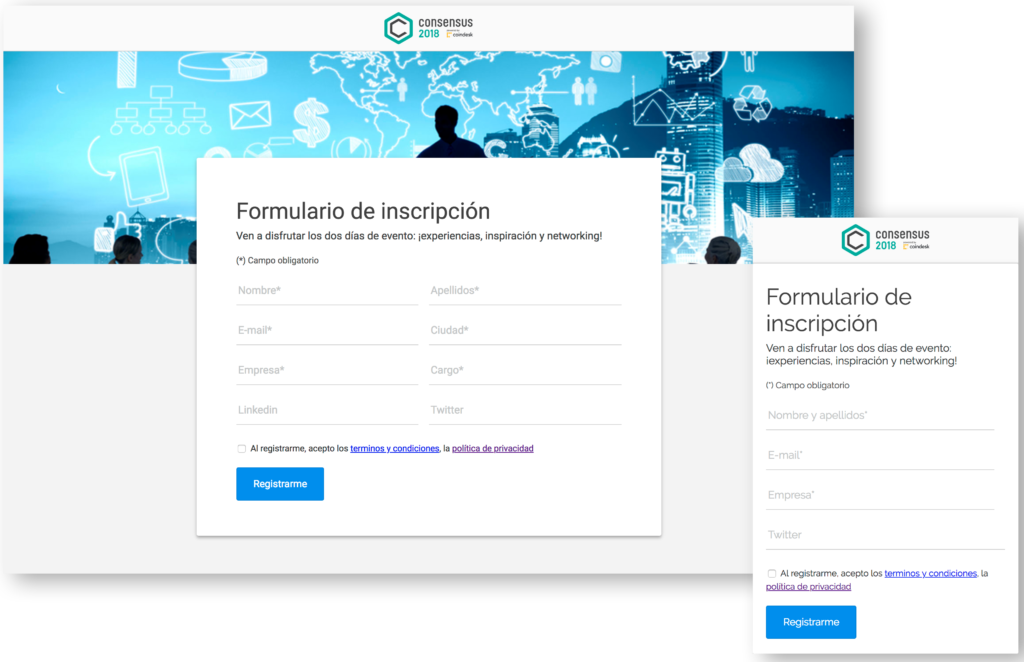 Online registration is the first tool for data collection and fundamental to the event. This tool allows attendees to register for the virtual event, submit preferences and personal information.
.
Sending email campaigns can drive awareness and interest in your event, keep attendees informed and be used to get your community to register for your virtual event.
Email is the best way to communicate with attendees at all stages of the event. Using an email marketing tool allows you to send personalized emails, automate when to send them and decide who to send to based on attendee data.
.
The incorporation of a web platform for a virtual event allows you to distribute the streaming and facilitate its visualization since the attendees will be at home and in front of the computer. Unlike video conferencing tools, this format guarantees customization with the branding of the event and incorporates other functions that help to create a complete experience, through informative, interactive, networking and gamification modules.
Some outstanding functionalities that work effectively in events would be:
Online event registration page with registration form.
Streaming broadcasting to be able to broadcast presentations, lectures or debates online.
Complete agenda with all the sessions and rooms where each session will be broadcast.
Chat, questions and live voting to involve the audience.
1to1 appointments via video call with limited time and a personalized calendar with the scheduled appointments.
Workshop rooms with limited attendees for meetings or discussions
Documents to share all files presented during conferences or extra material for attendees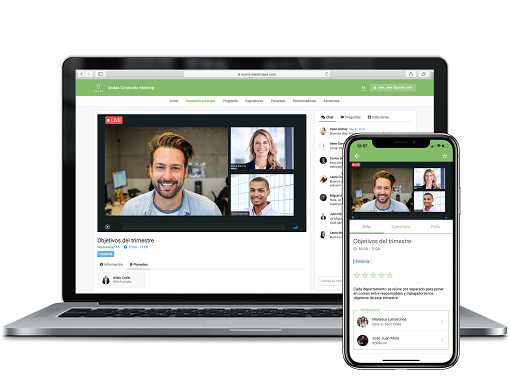 Mobile application for events
A tool that will also help in the organization of a virtual event is a mobile application. They are currently used in hybrid events, as they are used for attendees who are both in person and virtually at the event.
The Meetmaps app allows you to watch streaming sessions via Youtube Live, have a complete agenda with links to the sessions to be presented live and all the content available to attendees.
In addition, the app allows to promote virtual connections through group chats, live questions or live voting, and networking and gamification through its features among others.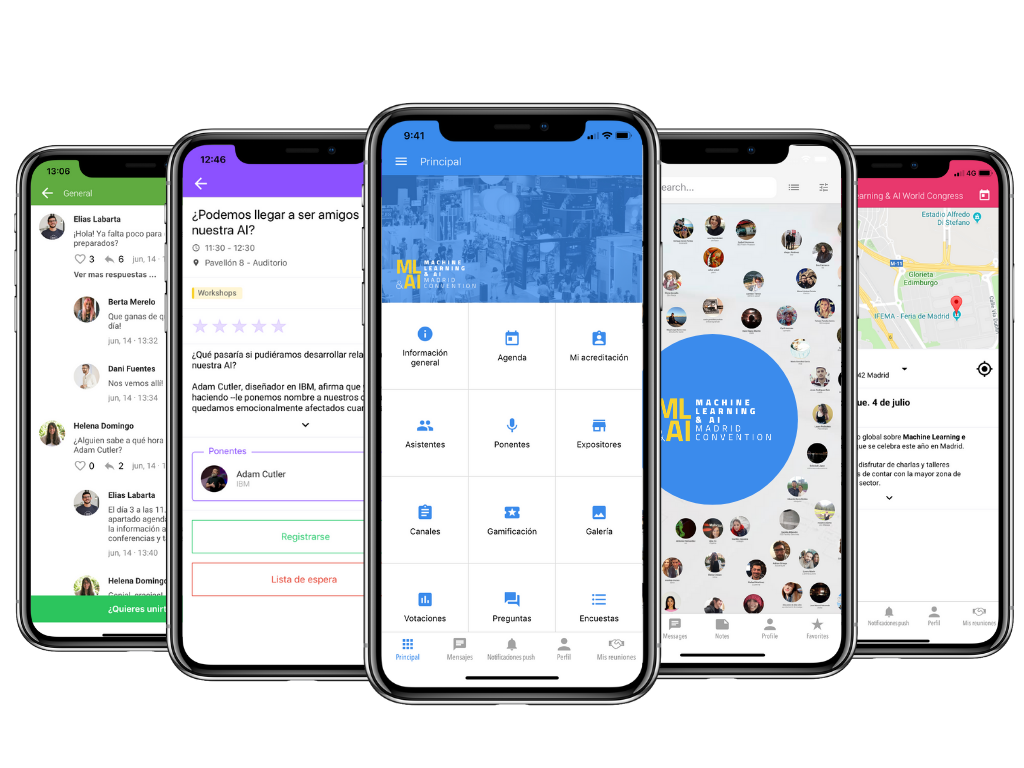 .
Tools for your virtual events, the best solution
Finally, it is now a very good idea to organize virtual events as a digital strategy. We know that virtual events do not have the same power of face-to-face interactions, but the current circumstances require it, and sometimes at very short notice.
Having the right technology in place in this situation is a very wise decision and, therefore, creating virtual events can provide positive and informative experiences for attendees. Try it!
.
Articles you may be interested in: