If you want to organize a virtual event or you have postponed the physical event that you had already established to be held in a few months, surely at some point you need to broadcast streaming or use webinars for your conferences, product launches, conventions, trainings and other types of online events. All these actions require live streaming tools such as Meetmaps.
In addition, live video is one of the most current trends in events, as it can generate a lot of engagement with the audience, transmit knowledge and experiences, and achieve visibility.
Virtually all social networks offer the possibility to broadcast live. Many brands are aware of this and are taking advantage of its potential to create live videos on their platforms.
.
What is a webinar?
A webinar is the combination of the words Web and Seminar, therefore, a webinar is a seminar given online, which allows to communicate online training content in video format.
The webinar is a tool used by lecturers or professionals to give a course, a talk or a seminar, which is followed by live users, who can communicate and interact with him. A webinar has several formats: informative, educational or commercial.
.
What is streaming?
Streaming is the technology that makes it possible to broadcast live events or real audio or video content over the Internet via a website or cell phone.
The success of streaming shows that people want to be in the present, what is happening right now. They want to feel like they are part of the things that are happening around them, which changes the way we communicate with them.
Here are the 9 best streaming and webinar platforms to use for your events. Let's take a look at the features and functionalities of each of them.
.
Streaming platforms
.
1. YOUTUBE LIVE
This tool allows you to live stream an action and reach the audience in real time regardless of whether you want to give a speech or conference, or hold question and answer sessions, interacting in real time with the viewers.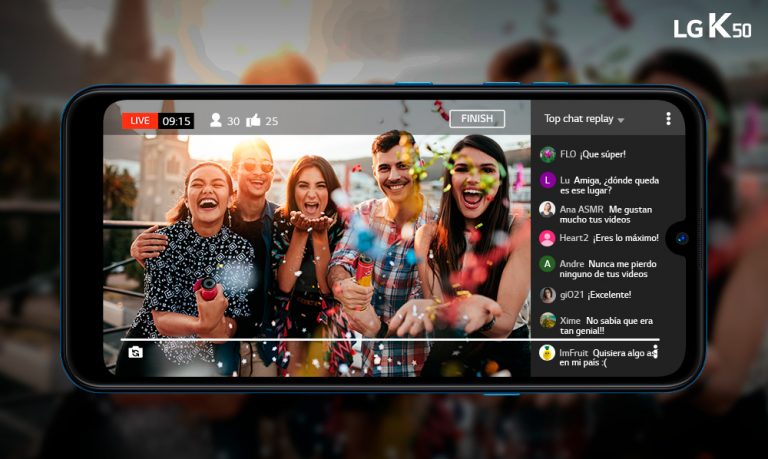 There are several ways to broadcast live on YouTube, but in the case of wanting to broadcast a live video for the attendees of a virtual event, you can choose the option that allows you to broadcast live easily from a laptop or mobile computer without having to use an encoder.
Features:
Popular. YouTube Live has an audience of more than 1.9 billion monthly users, with one billion hours of content played per day.
It is easy and fast to use, free and for all audiences and formats.
It supports a wide variety of content and builds user trust.
As a tool that has been around for so long, it is well known and available to anyone who wants to use it.
.
2. VIMEO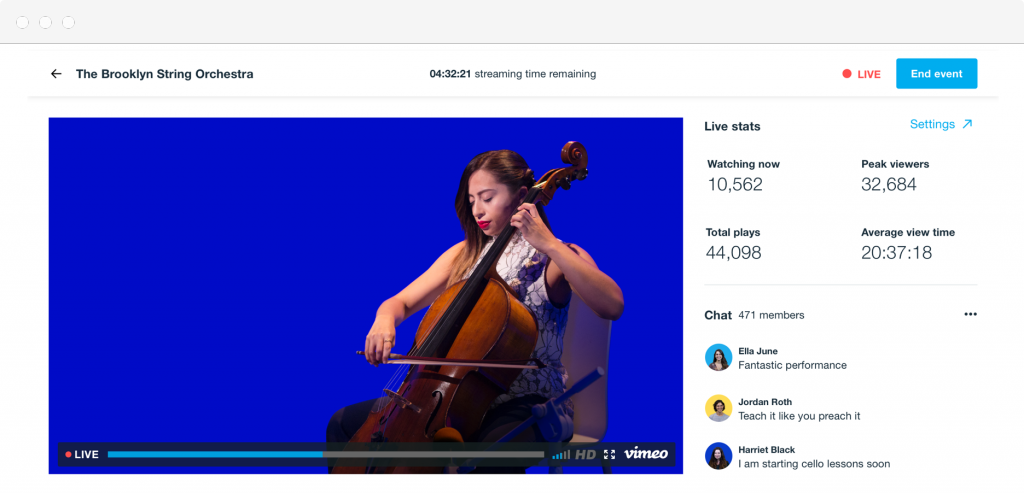 Vimeo is a social network that allows streaming video sharing and storing videos for users to comment and interact. Users must be registered to upload videos, create their profile, comment and create favorite lists.
.
Features:
Unmatched quality: host videos in the highest possible quality and allow for 4K ultra HD streaming.
Storage space: Vimeo's flexible storage options make it space-saving.
Privacy settings: you can choose who can or cannot see the video with the privacy options.
Vimeo on the go: Vimeo's mobile app is available for iOS and Android and allows you to back up videos and view content offline.
Numerous musicians or series use Vimeo to promote their videos.
.
3. FACEBOOK LIVE
This is the new tool introduced by Facebook for live video broadcasting from mobile devices. You can share any event that is happening with your cell phone. People who are watching the broadcast can interact through reactions (I like it, I love it) or with comments.
Features: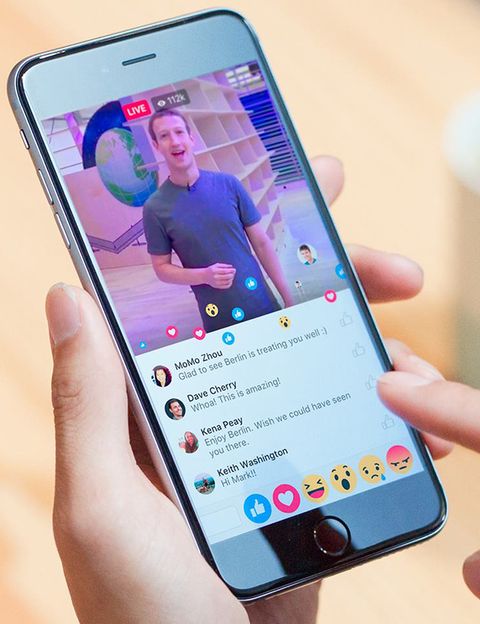 Privacy: allows you to select who can or cannot see the broadcast.
Broadcasting: when you start broadcasting, depending on the privacy settings you have chosen, your friends will be notified that you are broadcasting so that they can connect.
Live interaction: users who are watching the live broadcast will be able not only to use the reaction buttons but also to write comments.
Publish option: once the broadcast is finished, it gives us the option of deleting it or publishing it on our profile. Once published, it will be available for viewing at any time.
Facebook Live is an excellent tool to share events and moments of your life with your friends and followers.
.
Webinar platforms
.
4. ZOOM
Zoom is another of the most complete and widely used platforms today for video calls and webinars.
Features: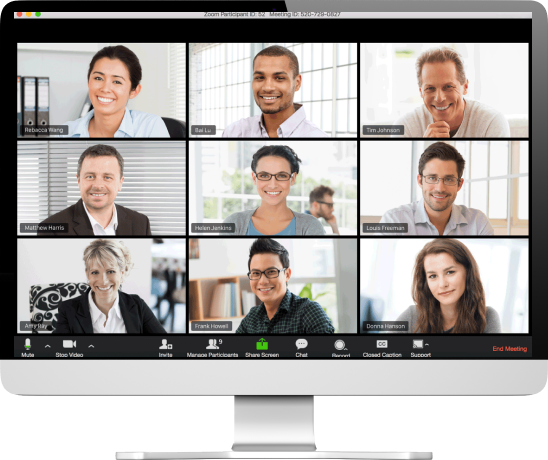 Schedule meetings with clients, collaborators and colleagues.
Screen sharing
Instant messaging (chat)
Management of different participants
Virtual background
Link with your work calendar
Simultaneous live streaming via Facebook Live and YouTube Live
So if, in addition to video calls, you also conduct webinars, Zoom is a very good choice.
.
5. WEBEX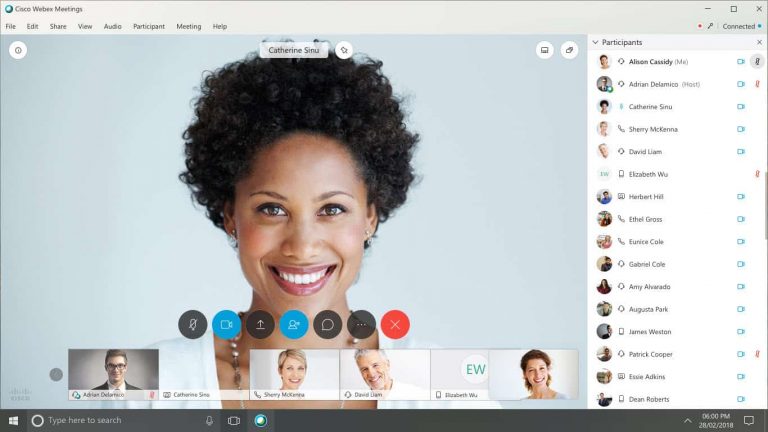 Webex is a platform that encompasses everything from online meetings (presentations and live conferences) to file sharing with the entire work team.
This platform makes teamwork easy and agile.
.
Features:
Meetings: allows you to hold live meetings and gather a group of people anywhere in the world through their devices, with HD quality audio and video.
Webex Teams: enables continuous teamwork in one place through video conferencing, group messaging, and file sharing.
Integration: Webex works well with other formats, as integrations connect the tools you already use to ensure that work runs smoothly.
Webex is a complete solution that offers a set of powerful software tools that provide a secure, reliable, on-demand collaboration experience on the web.
.
6. GO TO WEBINAR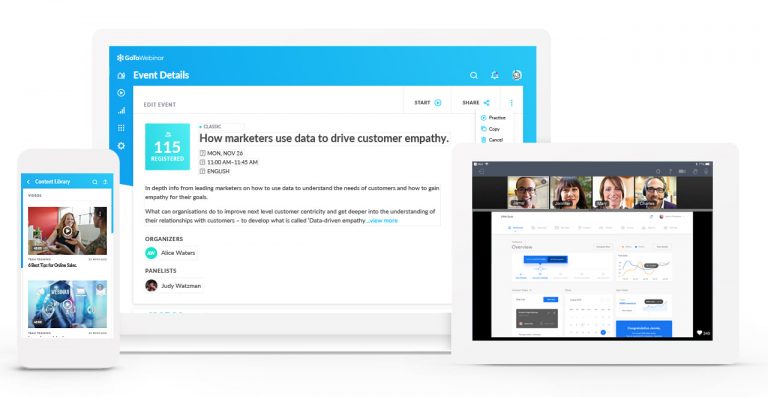 It is a reference tool for webinar professionals, it is secure, does not give problems and works correctly since its inception.
GoToWebinar is a complete platform, which does not present errors in the live, no cuts, no problems with chat, delays, failures when putting a presentation or another presenter on screen, etc.
Features:
Video recording of sessions. An added value compared to offline is that you record live and after the webinar you can transform the event into a downloadable product.
The video and audio quality is very good. On the day of the live webinar, you can allow attendees to ask questions by voice (beyond the chat).
Advanced features. Allows for live voting, gathering attendance and attention reports on the webinar.
Compatible with Mac and PC, also on iPhone and Android.
GoToWebinar is the most expensive option on the market but it is the price of being the #1 and the most reliable.
.
7. EVERWEBINAR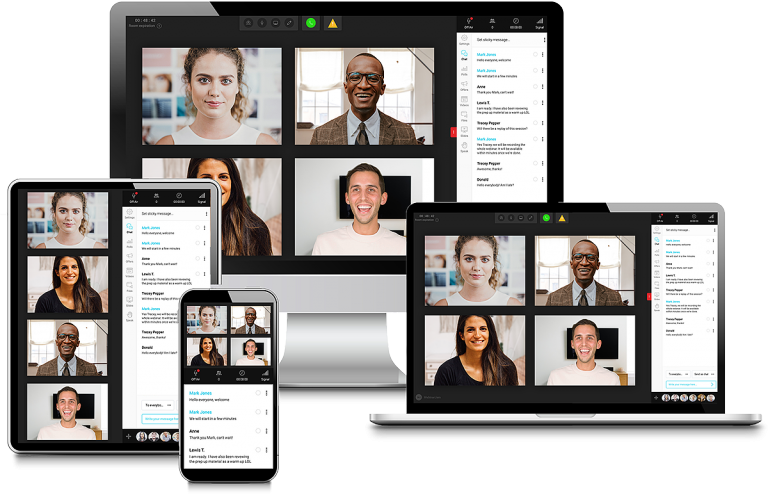 As its name suggests, Everwebinar is a tool specially focused on the organization and broadcasting of webinars. In fact, it is conceived as an automation software for businesses that include the design of specific landings for webinar promotion.
.
Features:
Automated webinars that simulate live events.
Secure webinar rooms with password protection
Live chat moderation for hybrid webinars
Customization of pages with your style and branding
Data, analytics and tracking of your webinars
Everwebinar is the perfect tool for companies that want to pre-configure their automated webinars, as the platform offers many scheduling options to broadcast content to your audience.
.
8. EASYWEBINAR
EasyWebinar is another platform specialized in streaming webinars focused on business. This tool allows you to automate webinars to get leads, so it incorporates specific functionalities.
Features: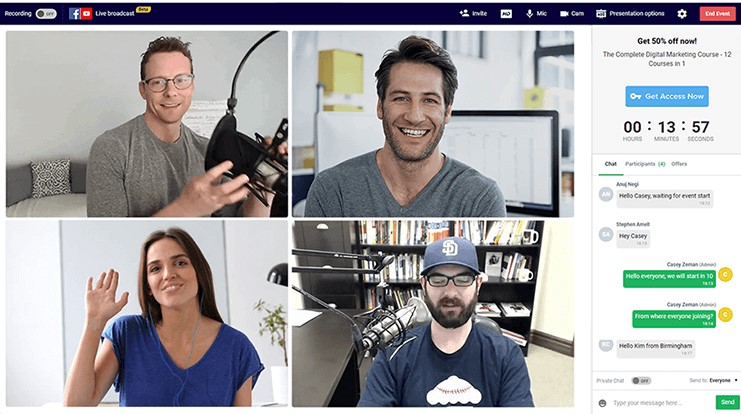 Multiple presenters: allows you to have multiple presenters, and invite an attendee who can present as well.
HD streaming: videos load without delay.
Screen sharing: easy sharing without quality loss.
Live chat: hold live conversations and pitch offers to increase leads.
EasyWebinar's automated and interactive webinar software allows companies to increase sales and build lasting customer relationships.
.
9. LIVESTORM
Livestorm is an online web conferencing application used to share real-time video streams. It can be used to host online meetings, product demonstrations, sales webinars, training sessions or any other live event.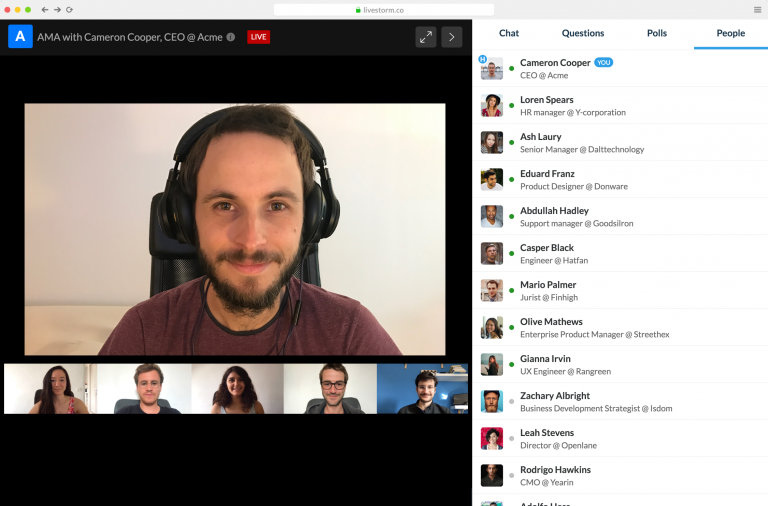 Features:
Webinar and HD video streaming
Integrates Youtube Live
Text chat for participants
Question and answer functionality for participants
A customized registration page
Replays available for streaming or download
Livestorm's technology is based on a system typology that allows audio and video communication to work within web pages and eliminates the need to install plugins or download native applications.
.
Do you need help with streaming?
Now that you know some platforms that can help you implement streaming in your virtual events or create webinars for your seminars, you can start using them and generate engagement with your community.
If you are looking for a PREMIUM service to introduce a digital experience to the professionals of your event, contact us and create a complete virtual event with technical support for the realization and configuration of your sessions.
.
Articles you may be interested in: