As you know, we are the Mobile App that fits perfectly in your event and it makes easier for it to become an interactive conference and a more social event, which will bring to your business lots of opportunities. So, we can't stop investigating and thinking about how we could improve your experience day after day.
So, for that reason, we as the Meetmaps Team would be really proud to announce you our latest feature in our product. Have you ever heard about meetings one-to-one? So that what is our new feature about: schedule meetings from your event app.
Why have we added this new feature?
By studying and analyzing our clients and users, we realized that making appointments was a little difficult and they couldn't either schedule it in their mobiles. So we saw that we needed to improve that issue. So, we just went for it! And is for that reason that from now, we offer a new app function really useful for your events: meeting scheduling.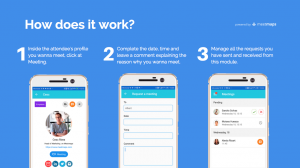 Now, the attendees, not only can visit the other's profile and send them messages, but also can make appointments through their mobile phones. They only need to click where it says "Meeting" inside the other's profile and they will be able to choose the day, time and where the meeting will take place, appearing just the moments that are available for both parts, making their timetables fit perfectly.
Once they have send the invitation, the other person will receive a Push Notification which can accept or decline. In both cases, they will receive another notification in which he/she will see if the meeting has been accepted or not.
But, what happens if there are some last minute changes, an eventuality or a withdrawal? Nothing happens! Because they will also have the opportunity to send a direct message to the other asking for some questions, telling them what had happened or make the arrangements they need to make to meet.
It sounds good, right?
So, don't hesitate and ask for a demo of our App for your event where you will be able to prove it by yourself and see how effective is for your event.
Thank you very much for keeping always an eye on Meetmaps' news! ?
Other interesting posts:
[related-content]