As we move further and further into a world where the borders between digital and physical are increasingly blurred, events are becoming an evermore important platform to share knowledge, ideas and attract new customers. Especially due to this inevitable merging of the virtual and physical world, event organizers can get amazingly creative when delivering event experiences to their audience. Here are some proven and almost futuristic Event Tech Tools to help you plan and execute your next event:
1. Event Website
First, you'll need an event website. There are thousands of themes and templates to choose from when creating your event's information outlet online, and in 2016 most event organizers can track down someone able to setup a basic WordPress site. However, we've found great success using the turnkey event website creator Splash. Splash is a beautiful website generator tool that lets anyone create mobile-responsive event websites. Its website building suite of tools includes email marketing, ticket sales and RSVP capabilities right out of the box. Plus, your attendees will be instantly attracted to the clean design and UX during the registration process which only adds to the credibility of your event.
2. Event Ticketing
One of the most popular and lucrative spaces we've seen in the events sector has been in the area of online ticketing. The market for online ticketing has been in hyper-growth mode for a few years now and it's finally starting to consolidate as the well-funded leaders are swallowing up the incumbents to gain market share.
Another great event tech tools is Eventbrite, an incredibly easy to use platform that allows event organizers to publish their event, customize their event page and promote it with their target audience. Their ticketing system is simple to setup and works seamlessly with Paypal, credit cards, Stripe and other online payment platforms. Furthermore, Eventbrite's powerful analytical reports offer insights into how well your ticket sales are performing and how much traffic your event page receives. The real reason we recommend Eventbrite is the way they seem to genuinely care about making your event a success and helping you improve your offering with your following events. Their nifty email marketing campaign even tracks how many people you've reached over all of your events throughout the year.
3. Event Experience & Engagement
We may be a little biased in this category, but we're going to go ahead and nominate ourselves for the best tech platform to improve the overall event experience. Meetmaps is the perfect mobile-ready tool to increase audience engagement and networking for your event before, during and after your event. By flawlessly integrating our web app with LinkedIn, all attendees' photos and basic bio info appears in an interactive display, letting your event-goers get in touch and interact with one another throughout the entire event lifecycle right from their phone. It's especially helpful for people you may have missed speaking with during the event, lost their business card, or simply have trouble putting a face to the name.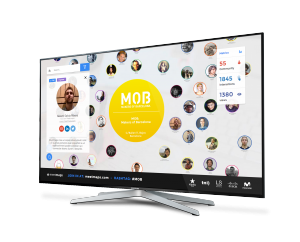 During the event is when Meetmaps really shines. By projecting your Meetmap on the wall of your event, you can see in real-time the interactions and introductions
taking place, not to mention tracking critical analytics and metrics of your attendees' activity. With Meetmaps, event organizers bring new value to their sponsors and speakers because the mobile-ready web app acts as a dynamic channel to increase branding and visibility in ways that were not possible before.
4. Event Interaction
One of the biggest challenges facing all event organizers is how to get the audience actively involved, especially after opening the floor for questions. You've seen it a hundred times. An amazing speaker finishes their presentation and the moderator opens the floor for questions from the crowd, only to have 500 suddenly get collective stagefright. It's an embarrassing and anti-climactic end that can ruin a good presentation. Introducing Sli.do, a mobile app tool that encourages audience participation that moderates Q&A and let's the best questions rise to the top through crowdsourcing. Stop fighting against everyone's fear of public speaking and let them hide behind their mobile phone for crowdsourced questions from the audience.
5. Extras
There's so much innovation in this space right now that it's hard to keep up with, but there are a few event tech tools out there that bring tremendous value or even just some fun distraction to any event.
Tweetwall
We already know that Twitter is a powerful engagement tool that any event organizer should already be leveraging, but the team over at Tweetwall want to move your tweets to the big screen. By creating a hashtag for your event, Tweetwall will capture all of your event activity in real-time and display it on a screen or wall during your event, letting everyone in on the virtual conversations about your event.
Catchbox
Catchbox is the world's first throwable microphone for audience engagement. Another favorite for
Q&A sessions and interaction with speakers during and after their presentation, Catchbox works exactly as you imagine it would. It's a soft, foam exterior protecting a powerful microphone that can quite literally be tossed around the audience during your event. It also adds the hilariousbonus of watching some seriously uncoordinated people try to throw and catch this thing.
Kino-mo Holograms
The future has arrived as Kino-mo demonstrated this month at CES in Las Vegas. This next level hologram company is all set to bring holograms mainstream, offering plug-and-play hologram displays for mass-market installation. It's the perfect attention-grabbing feature for your next event.
There you have it. Event organizers today have an ever-expanding list of tools at their fingertips to deliver value to their attendees and sponsors like never before and 2016 is sure to unleash some awe-inspiring events as these tools go mainstream. What other event technology tools do see making a big impact this year?